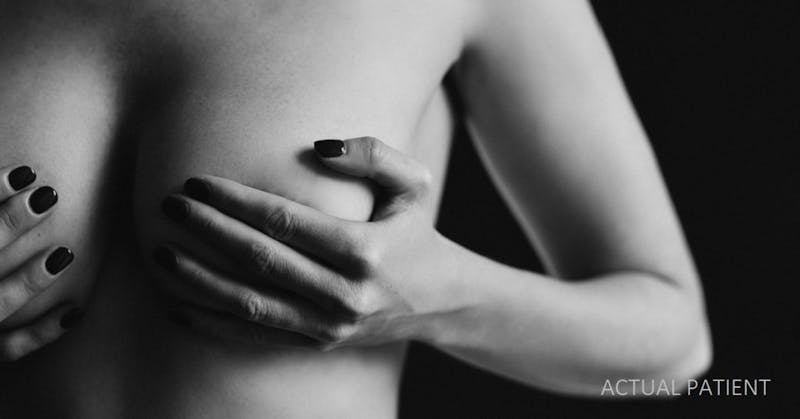 At The Piazza Center in Austin, TX, we are dedicated to ensuring your safety when undergoing a surgical or nonsurgical treatment. However, occasionally complications can arise, resulting in a need to return for revision surgery.
If you have any questions regarding your breast augmentation surgery, please request a consultation or call (512) 288-8200 for information to help address your questions and concerns.
These are a few of the most common reasons we may go back to surgery when a breast implant is placed. As an experienced breast surgeon in Austin, I feel it is really important to understand these when investing in your breast augmentation surgery.
Bleeding
Also known as a hematoma, after breast surgery, bleeding can occur when a blood vessel starts leaking into the space created for the breast implant. This complication will be noticeable within a 5- to 10-minute period.
Symptoms: The breast tissue will enlarge up to 2 to 3 times, creating asymmetry between both breasts. The tissue might have some bruising noted as well. This can occur immediately after surgery or up to three weeks later.
Rate of occurrence: When we look at the statistics on a nationwide level, the rate of hematoma after breast augmentation occurrence is between 2% to 4%. Our 10 years of data at The Piazza Center demonstrates that this complication only occurs 0.5% of the time. We attribute this to Dr. Piazza's meticulous technique and attention to detail in the operating room.
What to do if you experience symptoms: If any signs of a hematoma have developed, notify The Piazza Center immediately. Abstain from eating or drinking anything until we have made the diagnosis and know the course of action we need to take.
Treatment: Treatment includes exploration of the breast to find the source of bleeding and stopping it. This procedure normally takes about an hour, and you will feel immediate relief from pressure.
Recovery in the affected breast will take approximately 3 to 6 weeks for the swelling to resolve from this additional procedure.
Infection
Every surgery carries a small risk of infection, but we take many steps to prevent infection. One of these precautions involves using the Keller Funnel®2 to reduce the risk of contamination to breast implants during surgery.
Symptoms: Signs of infection include warmth, drainage, redness, and inflammation around incisions. The most common period of time for infection to occur in our practice are between 3 to 5 weeks after surgery.
Rate of occurrence: Infection can occur 1% to 2% of the time when we look at the national statistics for breast implant placement. There have been only 4 implant infections out of 2000 breast implants placed (0.002%) since the practice was founded by Dr. Piazza in 2010.
What to do if you experience symptoms: If these symptoms were to occur, please notify the office immediately, and refrain from eating and drinking. The physician needs to evaluate you and determine if surgical exploration is necessary.
Treatment: Surgical treatment includes removal of the breast implant and a thorough wash-out of the space where the implant was located. Cultures will be obtained in surgery, and antibiotics will be tailored to the cultures. A small drain will be placed in the breast and removed around 6 days after surgery. The affected breast will not have an implant until we return to surgery approximately 6 weeks later. The breast will still look beautiful in the long run.
Capsular Contracture
Once an implant has been placed, a collagen capsule forms around the breast implant. In some cases, the capsule can thicken or tighten around the implant. This condition is called capsular contracture.
Symptoms: Capsular contracture may cause the breast to feel firm, look narrower, or remain higher in position. It also may cause discomfort and distort the breast. This phenomenon commonly occurs most often between 3 to 6 months postoperative.
Rate of occurrence: When we look at national statistics, this occurs in 1 out of every 10 to 15 patients and usually only on one side. Our 10-year review at The Piazza Center demonstrates that 1 out of every 30 to 40 patients who have breast implants placed will have capsular contracture.
What to do if you experience symptoms: If this complication occurs, we would return to the operating room when it is convenient for you.
Treatment: This breast implant revision procedure will entail replacing the implant, removing the abnormal scar capsule, aggressively washing out the breast with antibacterial solutions, and placing a brand new implant and biologic lining to prevent the recurrence of capsular contraction. The Piazza Center recurrence rate is only 9.7%. This means you have greater than a 90% success rate with this revision procedure

to treat capsular contracture. Traditional treatment methods have a recurrence rate as high as 30% to 50%.
If you have any questions about getting breast implants in Austin or breast implant revision surgery, please request a consultation online or call our office at (512) 288-8200.