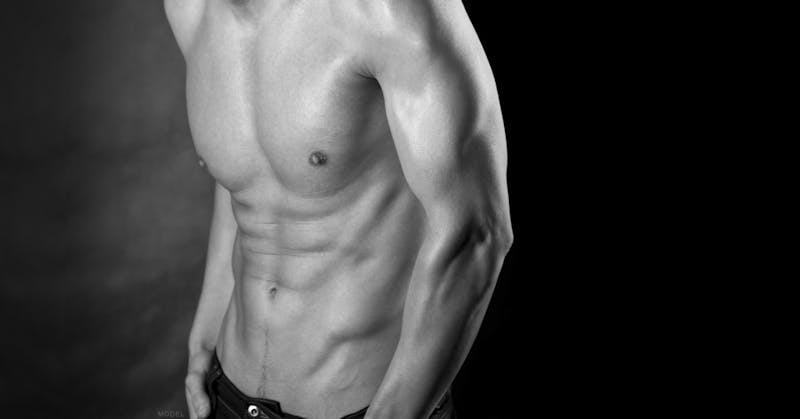 Approaching body contouring with men is uniquely different than with women. At my plastic surgery center in Austin, TX, I pay close attention to the details of each male patient's underlying muscular anatomy.
What is body sculpting for men?
Understanding these nuances allows me to enhance the muscular structure where it needs to be augmented or liposculpt the junctions and borders of adjacent muscle groups to create a more balanced, natural, and masculine result. This is my fundamental approach to contouring all areas of the male body, including the:
Chest
Abdomen
Shoulders
Back
Flank
Legs
Buttocks
Arms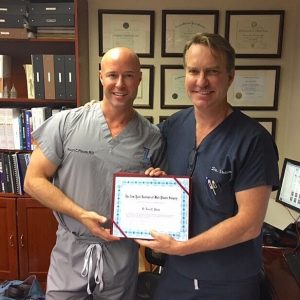 Having completed a fellowship at The New York Institute of Male Plastic Surgery with Dr. Douglas Steinbrech, I bring modern techniques like BodyBanking® to help my male patients achieve their goals. It is most important that my patients have realistic expectations, and I strive to exceed these expectations for each patient. (You can learn about some other trends in male self care in our related blog post.)
My own experience in fitness, competing in all-natural body building competitions, triathlons, and swim races, and serving as a group fitness cycling instructor at Pure Austin gives me a unique perspective when taking care of my male patients.
How long does it take to recover from body contouring?
Patients often ask about recovery for contouring chest enhancement, abdominal reveal, and flank removal procedures. Most guys say they don't have time for significant downtime after surgery. I get that, and so I designed a recovery process that really gets my guys back to life in an expedited fashion.
Can you exercise after body contouring?
I find that many of the male patients who undergo contouring procedures are eager to get back into the gym and exercise; I encourage this because I know that great results correlate with active patients.
After body contouring, I encourage patients to walk on a treadmill with a slight incline and use a stationary bike to stay active. I also advise that they avoid core and cardio exercise associated with high-impact workouts (e.g. jogging, jump rope, CrossFit™) for 6 weeks. Isolated muscle movements are acceptable in the early post-procedure period, such as those that focus on muscle engagement with light weights and high repetitions.
After the initial 6-week period, I encourage male patients to emphasize muscle confusion through a diverse exercise and weight-lifting program. Doing so will take surgical results to an entirely new level of transformation over the course of 6 months following the procedure.
How do men contour their chest?
The male chest is revered as one of the most desired parts of the male physique. Many guys come to see me to strengthen the appearance of this area, and I have refined my approach to the male chest with a combination of:
Liposuction contouring to address the lower chest (area where the nipple is located).
Fat transfer to address the upper chest muscle to lift and fill out the chest.
These steps enhance the fullness and width of the chest. We know that fat cells contain stem cells that can enhance and improve the quality of the tissue when transferred from one area to another.
In my experience, I have observed that patients who have undergone a fat transfer procedure have improved gains with weightlifting that we feel result from the transfer of autologous fat directly into the pectoralis major muscle. Fat cells contain stem cells that can enhance and improve the quality of tissue when transferred from one area to another.
Oftentimes when performing fat transfer, the most common area for me to target for fat removal is the love handle area (aka flanks) or lower abdomen. From personal experience, I know these can be stubborn areas that can happily donate to enhance the male chest!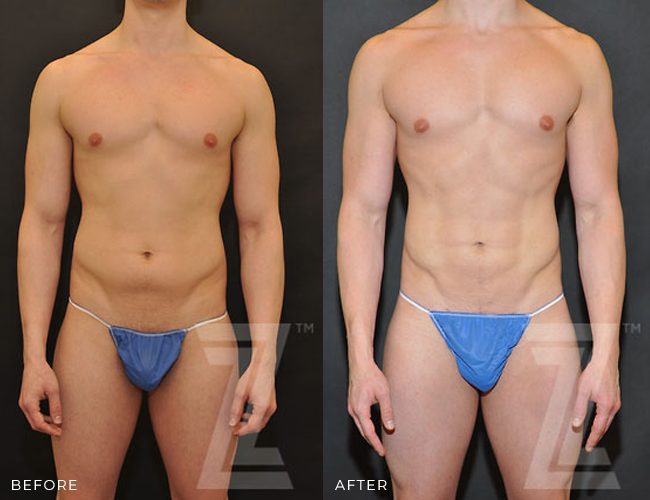 Can a guy get pec implants?
In my leaner patients, fat transfer may not be an option, and pectoral implants may be the best choice to enhance the chest muscle and upper body physique.
If you want to discuss male body contouring or learn more about plastic surgery for Austin, San Antonion, and Round Rock men, request a consultation online or give us a call at (512) 551-1067. You'll be back in the gym — feeling stronger and more confident than ever — in no time.