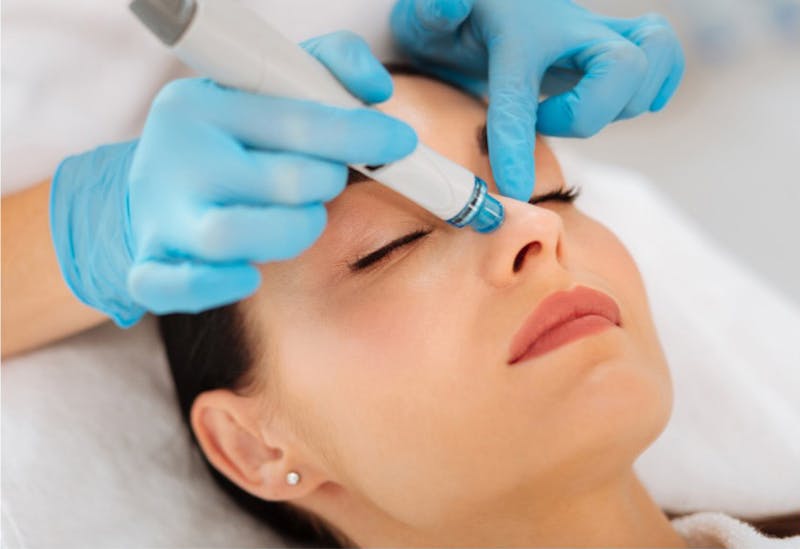 Hydrafacials are the best treatment a patient can do to control their acne breakouts, especially during the summer months. From the humidity to reapplication of sunscreen, no matter what skin type a patient has, we all get congested in the summertime with white and black heads due to increased oil production. Hydrafacials are not limited to facial treatments. Patients can do a Hydrafacial anywhere on the body, it's common for patient to treat backs, chests even scalps for acne breakouts.
The first two serums of the Hydrafacial are meant to exfoliate and extract the skin of all impurities. Starting with Activ-4 cleanser which uses glucosamine HCL to gently start the process of exfoliation by softening dead skin cells to make extractions easier. Then going in with a skin booster called a Glysal™ Peel that uses glycolic and salicylic acid which is clinically proven to reduce inflammation in the breakout, lighten and brighten the skin and stimulate collagen production. I describe it to my patients as a light chemical peel without any skin peeling later.
During extractions I utilize a salicylic blend called Beta which removes oil buildup and assists with painless extractions through vortex technology (the way fluid flows inside the tip) of Hydrafacial's patented tips. Last I apply Antiox+ serum I commonly refer to as liquid gold, which infuses vital antioxidants and hyaluronic acid for intense hydration.
Not just a skin cleanse
Hydrafacials are not only a deep cleansing for the skin they also treat different skin conditions. There are specialized skin booster serums that treat pigmentation, redness, and collagen production in a non-invasive formulation.
The ZO Rozatrol® booster is for patients with significant inflammation in the skin including acne and rosacea, by using ingredients such as milk protein and rosa canina extract to calm and soothe redness.
There are also two LED modes through our Syndeo™ Hydrafacial, red LED lights have been clinically proven to stimulate new collagen and elastin even relieve redness in the skin. Blue LED lights are for patients with active acne concerns because it is clinically proven to kill Propionibacterium acne (P. acne) bacteria which is the root of most breakouts.
Both skin booster serums and LED lights are easy add-ons to any Hydrafacial treatment and are highly recommended to get the best treatments possible. What I absolutely love about Hydrafacials is most patients can be treated and there is no downtime whatsoever.
For patients treating significant acne be aware that the Hydrafacials can cause skin purging after treatment which is a completely normal part of the process of purifying the skin. After the purging process is complete by establishing a consistent treatment schedule patients are left with a beautiful glow to their skin that can be expected for about 5 days afterwards, so it is perfect before an event or wedding.
Contact The Piazza Center today to find out if our Hydrafacial Syndeo™ device is right for you.