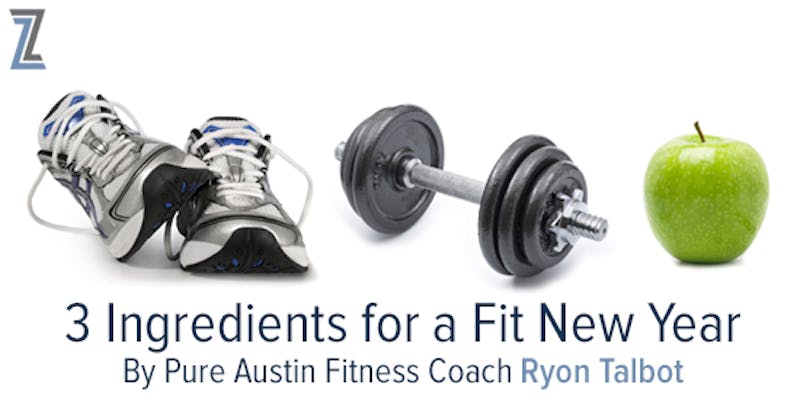 It's that time of year when we reflect upon months past to determine what was (and wasn't) effective in meeting our goals, reevaluating what to implement in the year to come. For many, the No. 1 goal every year either has something to do with how the body looks or how it feels. Because many of Dr. Rocco Piazza's Austin plastic surgery patients have these kinds of resolutions on their minds right now, he asked me, Pure Austin Fitness Coach Ryon Talbot, to weigh in on the topic. In my experience working as a fitness coach, whether or not they are successful in changing their bodies depends on 3 things. All 3 of these things are not equal in importance, but all 3 are important nonetheless:
Cardiovascular fitness: Getting your own heart rate elevated, thus burning calories, can be achieved many different ways. They include but are not limited to biking, jogging, rowing, and even walking at a brisk pace. In my experience as a fitness coach, this is where I see people go overboard, particularly right after the new year. That means too much cardio for too long and going too hard too soon. I tell my clients to start easy and to increase the amount of cardio slowly and incrementally each week. Increasing the duration of whatever activity you choose but also maintaining a manageable intensity is key in not only doing cardio consistently but also in keeping yourself injury-free.
Resistance training: This second piece in successfully changing the look and feel of your body includes but is not limited to training, stretching, and pulling resistance bands, pushing and pulling machines, and using free weights. It even includes pushing and pulling your body weight against an inanimate object. Resistance training redefines and shapes existing muscle that we all have to not only burn calories during the training but most importantly to make the muscles continue to burn calories while you are at rest (increasing metabolism).
Nutrition: This is the important piece that may be the hardest to hear. I consider this piece the most important in helping people achieve the desired look of their bodies. How important is it? My guess is this piece of the puzzle makes up about 70% of the difference for women (cardio 15%, resistance training 15%). For men, because of their genetic and evolutionary structure, it's a little less important, at about 60% (cardio 20%, resistance training 20%). The nutrition part doesn't have to be complicated. In layman's terms, try to avoid eating anything processed (boxes, cans, bottles, bags) as often as possible. Also, it isn't necessarily how much you eat so much as what you eat. For example, you can eat apples, broccoli, tomatoes, or basically anything from the ground, a tree, a bush till your head caves in, but you're not going to store these natural foods in your body as fat.
To achieve your ultimate goal of changing your body to look and feel different you must consider cardiovascular movement and resistance training, but most of your time, effort, and consideration should be placed on maintaining good nutrition. Have a happy and healthy 2015!