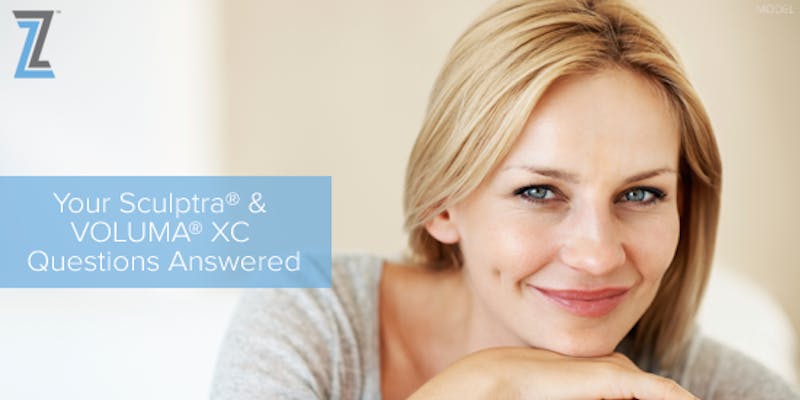 Dermal fillers are versatile treatments that can help minimize facial aging when used strategically. But there are so many great products now offered that it can be a little overwhelming for patients when they consult with plastic surgeons. At my Austin, TX practice, women and men ask about the latest fillers and how they differ from what's already available.
Today, let's clear up some questions about Sculptra® Aesthetic and JUVÉDERM VOLUMA® XC. These fillers are used for similar purposes, but in the hands of experienced injectors are tailored to the unique needs of each patient. Think of an artist using different paintbrushes to achieve the desired effects.
Here are some common questions I hear from patients:
What are Sculptra Aesthetic and JUVÉDERM VOLUMA XC used for?
Sculptra and VOLUMA XC are both designed to restore volume in the mid-face area. In fact, VOLUMA is the only filler approved by the FDA specifically to increase the volume for the cheeks both filling and lifting at the same time. Sculptra is used to rebuild collagen. It is the only volumizer scientifically designed to stimulate natural collagen production over time. Sculptra is a great product for both men and women who have an overall facial volume loss, creating a natural result gradually. Traditional dermal fillers are used to fill lines, wrinkles, and folds; Sculptra works differently by replenishing lost volume by stimulating growth of your own collagen.
Both products offer excellent results. VOLUMA is such an exciting option because it really results in a lifted and sculpted appearance when injected around the cheekbones. That's unique among fillers. VOLUMA is also a hyaluronic acid filler, and it offers immediate results. Sculptra is used more generally to provide volume from the cheeks to the jawline. Sculptra is made from poly-L-lactic acid, which promotes collagen growth. Its results appear more gradually.
How long do the results last?
As mentioned above, Sculptra's results appear more gradually than VOLUMA's, but both fillers get long-lasting results compared with other fillers. VOLUMA XC is clinically shown to last up to 2 years, while Sculptra has been shown in studies to last 2 years or more. A lot of practices refer to both of these products as "long-lasting fillers."
Can I get fillers instead of plastic surgery?
Fillers are an alternative to plastic surgery, but they don't provide the types of results you will get with cosmetic surgery. Each patient comes to our practice with specific aesthetic goals. During a consultation, I assess the patient's skin tone and bone structure and recommend what I believe is the best treatment path to achieve the patient's goals. In some cases, fillers are an excellent, short-term alternative to surgery.
Our practice offers both of these excellent fillers, and we're giving you a chance to get discounted treatments during May simply by using the hashtag #GetPlumpedWithPiazza on social media when scheduling your next Sculptra or VOLUMA XC treatment at our Austin practice. You'll save 20% on your treatment!
Whatever filler is used, it's important to remember that the injector's experience and skill are critical. Using the artist's analogy once more, anyone can hold a paintbrush, but it requires someone with training and an aesthetic eye to achieve beautiful results.