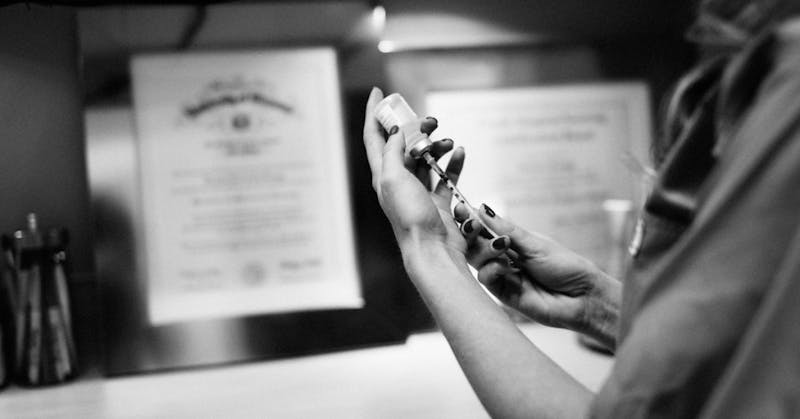 At The Piazza Center, injectables, such as JUVÉDERM®, Restylane®, and BOTOX® Cosmetic to name a few, are a huge part of our Austin practice. Our expert nurse injector, Hayley Peña, B.S.N., R.N., C.P.S.N., uses these products to help smooth out wrinkles, erase fine lines, and restore lost facial volume that comes with aging. Lately, we have been hearing about fake or counterfeit injectables; so, we want to provide a word of warning, and explain how to detect and avoid fake ones.
Know what you're getting
Unlike FDA-approved drugs that are researched and proven to be safe and effective, counterfeit versions have not passed the standards and quality testing required of a regulated drug. Fake injectables may have too little, wrong, or no active ingredients. Even worse, they may contain harmful ingredients.
Counterfeit injectables can have serious health implications because they can be made of completely different ingredients than the real product or similar ingredients in different concentrations. The risks and side effects are unpredictable. Results could be anything from delivering the desired outcome to the potential for causing serious adverse reactions like infection, scarring, and immunological issues.
Choose a medical health professional
When it comes to avoiding fake injectables, the most important step is to seek certified medical health professionals. Board-certified dermatologists, plastic surgeons, and their well-trained staff can familiarize you with the packaging of authentic injectable products, which have a hologram on the bottle or package. Examining product packaging before a procedure and requesting that all products be taken out of the package and opened in front of you are more ways to protect yourself. It is important that you know your injector's credentials and confirm their reputation by online review search. Further, all providers in the State of Texas can be verified online through the Texas Medical Board.
Be wary of very low prices
Keep in mind that if the cost for services is significantly lower than the marketplace, it could indicate that the provider is using counterfeit injectables. Avoid the online purchase of injectable medications like fillers and neurotoxins as these products should not be readily available to non-physicians. The best defense is to seek treatment from reputable board-certified plastic surgeons, dermatologists, and licensed nurse injectors.
If you would like to learn more about how to tell whether an injectable like BOTOX or JUVÉDERM is real or fake, contact us online to request a consultation at our Austin practice or call (512) 551-1067.
Rocco C. Piazza, M.D. is a Diplomate of The American Board of Plastic Surgery, a member of the American Society of Plastic Surgeons (ASPS), as well as a national spokesperson for the ASPS.