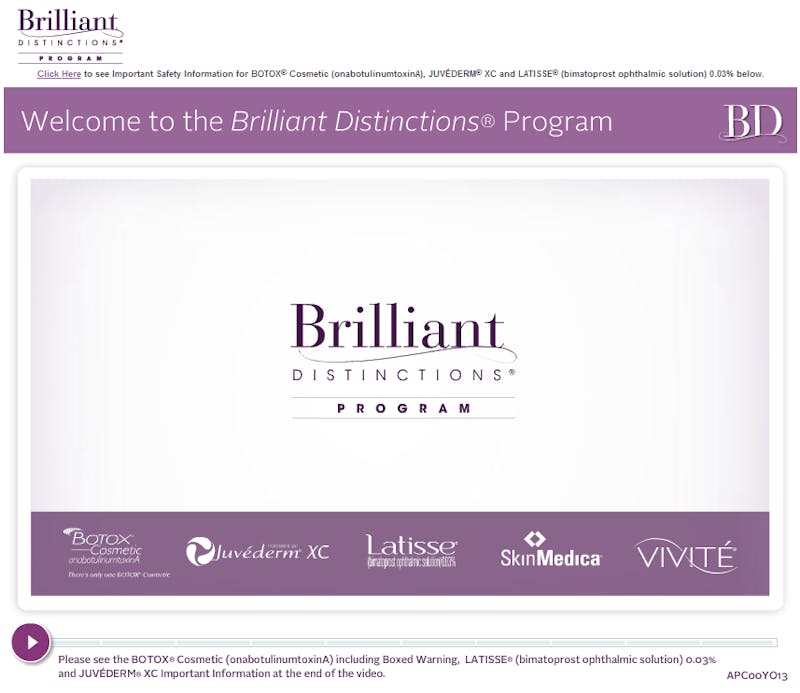 There are many providers in Austin for BOTOX® Cosmetic and injectables, but not every provider allows patients to participate in the Brilliant Distinctions Program. This recently came to my attention when I was visiting with a local med spa in Austin that has a provider for injectables for their clients. I feel that not offering the Brilliant Distinctions Program to respective clients provides a major disadvantage and is a disservice to patients. The Brilliant Distinctions program is a way for patients to accrue points for Allergan products like BOTOX, Juvederm and SkinMedica if your doctor feels that these products are right for you. The purpose of the program is to reward patients for loyalty and to provide an incentive to stay on target with their personalized treatment regimen. At our med spa in Austin, we feel that a comprehensive approach to a skin care plan is the best way to address our patient's personal needs, incorporate a skin care program into their personal lifestyle and most importantly work within a patient's budget. In designing a skin care program that is tailored to each individual, we have found that our patient's find that taking care of their skin becomes a priority and a very normal part of their daily routine. After all, the skin is our largest organ and our #1 barrier to the outside world so we should take care of it, right?
How does Brilliant Distinctions work? First, Register with Brilliant Distinctions…then it is as easy as 1, 2, 3…
Step 1 : Earn Points for your purchase for BOTOX, Juvederm Ultra Plus XC and SkinMedica Skin Care Products. For example: If Your first Botox Cosmetic treatment = 300 points ($30 value)- which can be applied to your next treatment 3-4 months later.
Step 2: Start Saving by redeeming your points earned for you next treatment.
Step 3: Continue your rewards with other purchases with the Brilliant Distinctions Program.
This applies to skin care product purchases of the entire SkinMedica line- most importantly the award-winning TNS Essential Serum.
So next time, you seek an injectable treatment with Botox or Juvederm, or are repurchasing your skin care products- make sure you are earning your rewards points so that you take advantage of these instant rebates.
To learn more about skin care in Austin, come visit with me. Call us directly at (512) 288-8200 or contact me, via email, to find a time that works best for you! You can also sign up for our monthly newsletter on our "news" page to stay informed on the latest in Austin plastic surgery news.